CD's

Refolia, contemporary works for guitar (2008)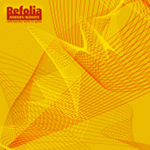 Modern works based on the ancient "la folia" theme. Despite the simple starting point an extremely varied CD that appeals to both brain and heart! The three Danish works were written for me and are recorded here for the first time.
The CD can be bought from me personally, or as download from one of the many download sites on the web.
Contents:
Peter Bruun: Refolia (2008)
Adina Izarra: Folias de Espana (1995)
Regis Campo: Sonate la Follia (1998)
Bo Gunge: A devil behind the mask (2008)
Riccardo Malipiero: Aria Variata, su la Follia (1979)
John Frandsen: Folia Folle (2008)
Bryan Johanson: La Folia Folio (1995)
Duo Takemitsu released 4 CD's so far, read about them here.